Are you interested in Self-Improvement? Looking for self-help books? How people relate to each other? Then whether it's an assignment or you just want to better yourself. Take a look at these books.
These titles are housed in Cedar Rapids, but you can request them to be delivered to any of the other centers at any time.
Call Number: 131.337 C289h Title: How to Stop Worrying and Start Living: Time-Tested Methods for Conquering Worry Author: Dale Carnegie
Call Number: 158 M465f Title: The 15th Invaluable Laws of Growth: Live Them and Reach Your Full Potential Author: John C. Maxwell
Call Number: 158 W814f Title: 59 Seconds: Change Your Life in Under a Minute Author: Richard Wiseman
Call Number: 158.1 O524w Title: What Is Your What?: Discover the ONE Amazing Thing You Were Born to Do Author: Steve Olsher
Call Number: 158.1 S896w Title: Wake Up Happy: The Dream Big, Win Big Guide to Transforming Your Life Author: Michael Strahan
Call Number: 158.1 S982b Title: Black Box Thinking: Why Most People Never Learn From Their Mistakes – But Some Do Author: Matthew Syed
Call Number: 158.2 C112c Title: The Charisma Myth: How Anyone Can Mast the ARt and Science of Personal Magnetism Author: Olivia Fox Cabane
Call Number: 158.5 V969n Title: Never Split the Difference: Negotiating As If Your Life Depended On It Authors: Chris Voss with Tahl Raz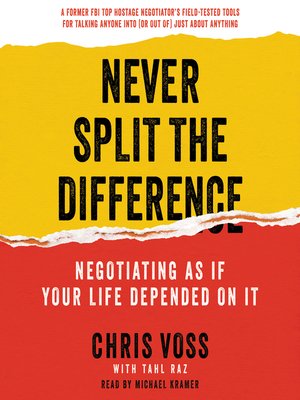 Call Number: 306.85 F298s Title: The Secrets of Happy Families: Improve Your Mornings, Tell Your Family History, Fight Smarter, Go Out and Play, And Much More! Author: Bruce Feiler
Call Number: 363.25 N771s Title: Stalling for Time: My Life as an FBI Hostage Negotiator Author: Gary Noesner
Call Number: 363.4 M145w Title: The War on Alcohol: Prohibition and the Rise of the American State Author: Lisa McGirr
Call Number: 610.28 G284c Title: The Checklist Manifesto: How To Get Things Right Author: Atul Gawande
Call Number: 612.8 D747v Title: Vision: How It Works and What Can Go Wrong Authors: John E. Dowling and Joseph L. Dowling
Call Number: 650.1 G663t Title: Training Camp: A Fable About Excellence – What the Best Do Better Than Everyone Else Author: Jon Gordon
Call Number: 650.1 K921r Title: Risk/Reward: Why Intelligent Leaps and Daring Choices Are the Best Career Moves You Can Make Author: Anne Kreamer
Call Number: 650.1 P524p Title: Power: Why Some People Have It – And Others Don't Author: Jeffrey Pfeffer
Call Number: 658.314 G663s Title: Soup: A Recipe to Nourish Your Team and Your Culture Author: Jon Gordon
Call Number: 658.4 B639o 2009 Title: The One Minute Manager Builds High Performing Teams: Excellence Through Team Building Author: Ken Blanchard
Call Number: 658.4 G663y Title: You Win in the Locker Room First: The 7 Cs to Build a Winning Team in Business, Sports, and Life Authors: Jon Gordon and Mike Smith
Call Number: 658.4 M346c Title: Collaborative Intelligence: Thinking With People Who Think Differently Authors: Dawna Markova and Angie McArthur
Call Number: 791.06 S628o Title: One Little Spark! Mickey's Ten Commandments and The Road to Imagineering Author: Marty Sklar
Sarah Uthoff is a reference library at Kirkwood Community College. LIKE the Kirkwood Community College Library on Facebook and find links to Sarah all over the web at her About Me Profile.